Opera Corner Modular Sofa by Fama Living
The Fama Opera has a lovely casual lounging sofa, due to its increased seat depth but without being too deep in the room. Each seat cushion benefits from stitch button detailing, this helps to keep the seating looking smarter. Each of the sofas and modules comes with scatter cushions, these can be covered in different fabrics to the sofa or chair.
From $4,255 for composition 142/308.
Special order 10-14 weeks
Description
Opera Corner Modular Sofa
Opera Corner Modular Sofa is a corner sofa of generous dimensions with a serene and sensual design. The different options of this modular allow us to create different compositions, from the typical sofa with chaise longue to an elegant corner group with straight modules and a curved chaise longue.
In addition, we can combine it with the new You&Me armchair that offers us spectacular comfort. Opera Corner Modular Sofa includes a large number of scatters that, besides giving it a majestic look, contribute to its amazing comfort. Special attention should be paid to the different leg options; they will not leave anyone indifferent, available at ReModern.
Cleaning advice
If you wash any sofa covers in the washing machine, it is recommended to wash them inside-out to prevent the zip and velcro from damaging the fabric.
We advise you to make a washing test with only one cover before washing all the covers in the washing machine (provided that the fabric allows washing).
If the fabric allows it, dry cleaning onsite is always the best choice. You can also use a steamer, protecting it with a cotton cloth.
For everyday care, you can use a damp cloth to remove dust and prevent accumulation.
In the case of specific stains, the best is to use a damp cloth with a little neutral soap (you can mix water with neutral soap in a spray bottle) and rub gently with circular movements on the stain. Let it dry and repeat several times until the stain disappears completely.
If the fabric of your sofa is made of chenille, it is important to keep in mind that with time and use some marks or changes of colour may appear.
It is very important to follow the cleaning instructions from the manufacturer of the fabric.
Measurements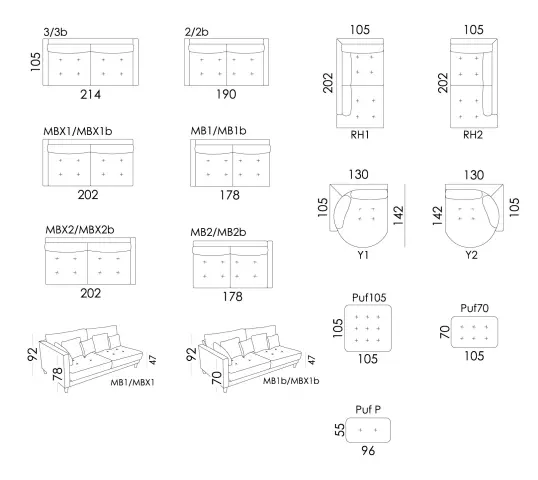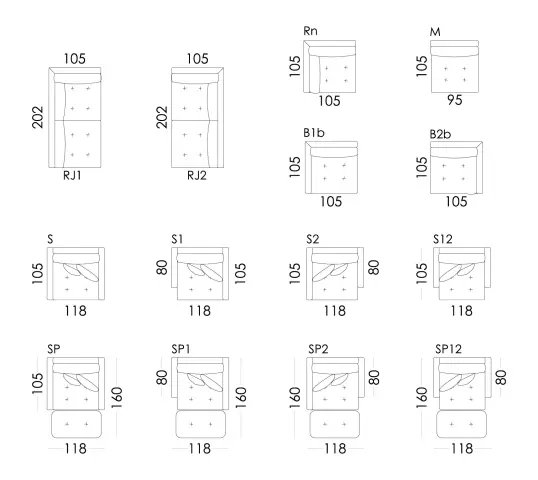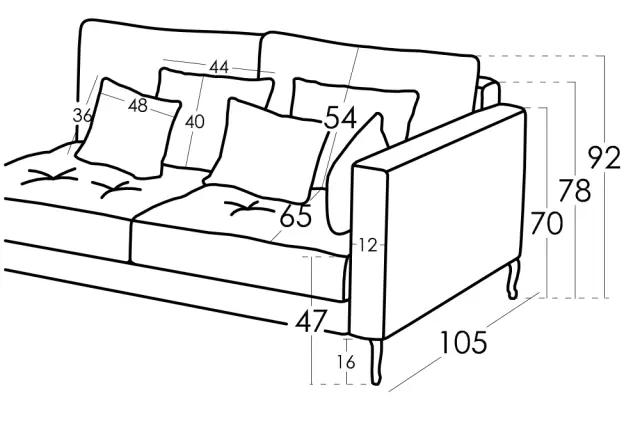 COMPOSITIONS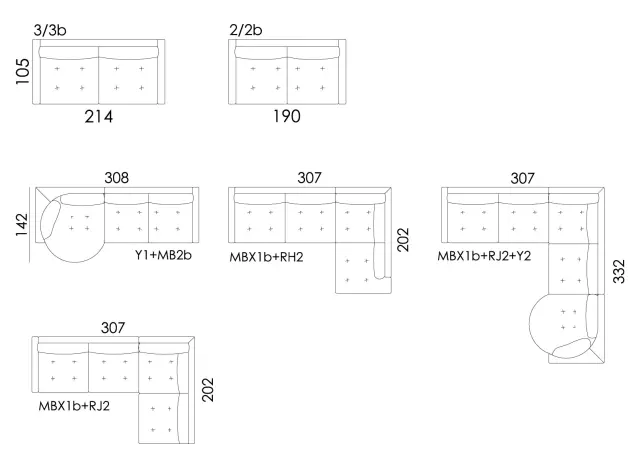 Information
Shipping
We currently offer shipping to all US states. Please, call us for details.
Size and configuration
Comfort customization
Sofas from different manufacturers provide different options of comfort customization, including adjustable footrests, armrests and headrests, extended seat, rotating chaise and pull out sleeper. Also heated seat and massage options are available on selected models. To learn more about comfort customization or seat comfort options.
Return & exchange
For return and exchange information,  please contact the original store your purchased from. More info.
Assistance
Contact us on 858-242-4030, or email us at info@remodernliving.com.